About Us
"The training was amazing. But the teachers, assistants, and other students made it spectacular."
— Basic Intensive Student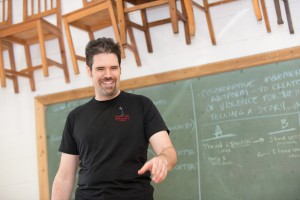 If you've ever been on Wellington Street West in Toronto walking past our open studio door, you may have seen screaming people having at each other with fists, blades, staffs, stools, toilet seats…whatever can do damage. It may look like we're killing each other, but really we're engaging in the ultimate partnering exercise: stage combat. At Rapier Wit, our mission is to design, direct, perform, and teach stage combat to the highest possible standard. For over twenty years we've dedicated ourselves to helping storytellers portray physical conflict safely, accurately, and to maximum dramatic effect.
Rapier Wit was founded in Toronto in 1991 by Daniel Levinson when he began doing fight direction shortly after his graduation from York University's BFA Theatre Performance program. Two years later Daniel was invited to join Fight Directors Canada at the Advanced level, and was in the first group certified through FDC's new national stage combat training syllabus. In 1996, Rapier Wit found its first studio home and welcomed its first class of FDC stage combat certification students. Three studios and over two decades later, Daniel is an internationally-known Fight Director, Fight Master and current president of Fight Directors Canada. Rapier Wit is home to a world-class teaching staff and offers a wide range of stage combat-related services that include complete FDC certification training (Basic, Intermediate, Advanced, and Instructor/Fight Director apprenticeships), fight choreography and direction, custom workshops, weekly drop-ins and master classes, specialized performer prep, and weapon rental and consulting. We enjoy relationships with fellow practitioners throughout the international stage combat community and are proud members of the Toronto Association of Acting Studios.
Along the way we've grown into a principle-centered community of artists who value the practice of mutual professional regard and support. We foster a working environment that is open, welcoming, and collegial rather than competitive, and we encourage every class to pursue excellence as a team. At Rapier Wit we have enormous respect for everyone who gives our discipline a try, whether they join us for one show, one class, or the rest of their career. Our students and colleagues constantly inspire us with their effort, courage and artistry, and for them we work to provide the best experience we possibly can.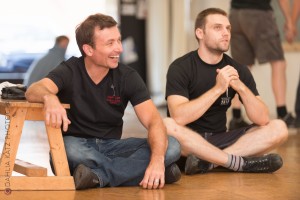 Come meet our people, try a class, and tell us what Rapier Wit can do for you.