Contact/Register
Contact Us
575 Wellington St. West,Toronto, ON, Canada M5V 1G3
Front door is always locked. Please ring bell to be buzzed in.
Tel: 647-748-8776 (studio) or 416-534-1947 (alternate)
E: daniel@rapierwit.com
Fax: 1-775-923-4159
For general inquiries please contact rapierwitcombat@gmail.com
RW is just south-west of the King West/Bathurst intersection. By TTC, the closest streetcars are the 511 Bathurst (north/south) and the 504 King (east/west) which both stop at King/Bathurst. From there walk south on Bathurst 1 street and turn right on Wellington. Rapier Wit is the middle unit of the 2nd building on the south (left) side. Look for the sword on the door!
Parking: we have 3 spaces directly in front of our garage door (2 on L, 1 on R). If a space is free you may use it, but please grab a parking pass from the studio for your dashboard before you begin class. Please do not park in front of any other units at our building – these are only for our neighbors. There may be street parking open on Wellington, Tecumseth or Niagara.
*Privacy notice: Whatever information you choose to give us in any format is strictly for internal Rapier Wit use, and we swear by the entire contents of our armoury that we won't share it with 3rd parties.*
Registration
To sign up for an upcoming class, please contact us by phone, or rapierwitcombat@gmail.com. Please wait for confirmation of a place in class before sending payment.
Payment
Deposit: After you've sent your registration info and we've confirmed that there's space in the class, a $150.00 deposit is required to reserve your place. This deposit is non-refundable but does go towards your full fee, so don't forget to subtract it when you're paying your balance!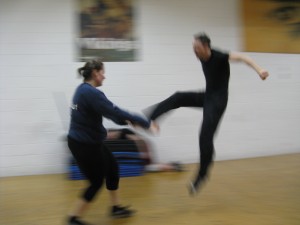 Payment methods: Fees are payable in Canadian funds.
Cheques: Please make cheques payable to Rapier Wit and note class in memo section. If the payor is not the student, please also note the student name. There will be a $20.00 charge for NSF cheques.
E-mail bank transfers: can be sent to daniel@rapierwit.com. Please note student name and class in message.
Credit cards: We use PayPal to process credit card payments. Please let us know that you'd like to pay by card and we will send you a PayPal payment request. (You do not have to have a PayPal account.) Please ensure that the payment goes through in Canadian funds.
Cash: does not have to be cold or hard, but should be Canadian. Please don't send it by mail – this makes everyone nervous.
Member discount: The member discount is available to members of Rapier Wit, FDC, CAEA, ACTRA and IATSE. Students referred by our fellow Toronto Association of Acting Studios instructors also qualify for the Member rate. Members are only eligible for this rate if the deposit is paid one month before the first day of the course. Member rate may only be applied to an intensive course if fees are paid in full three weeks before the first day of class.
Installment payments: Participants taking weekly classes may pay in $100 weekly installments, but full balance must be paid up two weeks before the last class of the course.
Got questions? About anything? Give us a call or send us an e-mail at the above co-ordinates – we'll be happy to hear from you.