Direction
"Daniel Levinson is a brilliant and innovative fight choreographer. During my tenure at the Stratford Festival as Artistic Director we faced a whole host of staging challenges together. His work is fresh, original and exhilarating. Daniel has the capacity of doing work that keeps the audience gasping for breath and also has the capability of being extremely witty. In fact, his comedic skills are just as developed as his dramatic work as a choreographer. Daniel is a terrific collaborator and I have greatly enjoyed working with him on a whole host of projects that literally run the theatrical gamut. I cannot recommend Daniel Levinson highly enough."

— Des McAnuff, Producer/Director, Artistic Director of The Stratford Festival 2008-2012

"…The burden for that falls heavily on the capable shoulders of Daniel Levinson, easily regarded as one of the finest directors of stage combat in Canada…"

— Richard Ouzounian, Theatre Critic, on Slap Shot Live in The Toronto Star
Every Moment Matters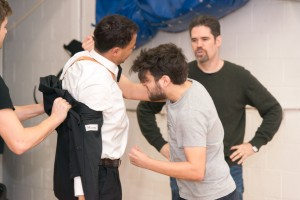 Dramatic violence often happens at an emotional apex, a turning point in the story. Even if it's just one move, it has to be done right or the strength of the entire scene will be undermined.
A veteran fight director, stage combat instructor and founding member of Fight Directors Canada, FDC Fight Master Daniel Levinson has been creating and performing dramatic violence for over twenty years. His tremendous range of experience includes TV, film, and every type of theatre from unmounted, one-performer shows to major Stratford, Mirvish and Broadway productions. Daniel's fight direction work is supported by a host of invaluable skills: he is a trained actor who understands the performer's challenges, a master teacher who instructs at all levels in a wide range of armed and unarmed forms, and a writer/director/producer with long experience in collaborative storytelling. He understands that your job is challenging, and he wants what you want: the best possible show with the fewest possible problems.
You can find Daniel's bio here. For more information on safety and theatrical firearms consultation by Daniel, please visit our Resources page. Fight direction and teaching CVs are available upon request. To discuss fight direction for your next project with Daniel, feel free to get in touch by phone or email.