Resources
" I really enjoyed the plethora of weapons in the armory!" –Basic Intensive Student
Need something/someone stage combat-related? Talk to us. Over the course of our 20+ years in the business we've amassed a solid inventory of weapons and developed a network of talented professionals. Below you'll find information on rentals, consultation and performers/performances. If we don't have what you're looking for, we may still be able to connect you with someone who can help.
Rentals
Weapons and Equipment
A wide selection of swords, knives, truncheons, staffs, assorted Eastern martial arts weapons, rubber training knives/guns, axes, halberds, capes, shields, bucklers, sword belts and frogs, holsters, and blank-firing/non-firing theatrical sidearms and longarms.* We also have rolling mats, a crash mat, and a range of protective equipment. Rates vary by item. Please contact us for information or a quote.
*Please be aware that the use, transfer and storage of certain classes of weapons, even for theatre or film, is strictly governed by the Canadian Firearms Code. The regulations may require you or your company to possess specific government-issued licenses and/or go through a formal transfer process. These requirements are non-negotiable and may take time to fulfill, so we strongly suggest that you consult with us on such rentals as far as possible in advance of start of rehearsals. As much as we want to help, we won't be able to rent these items to you without the appropriate processing time or licensing in place.
Rehearsal space
Subject to availability, our studio may be rented for readings/rehearsals at a firm rate of $33.90 per hour ($30 + HST). Playing space is approximately 1400 square feet, with a 20′ width and 14′ ceiling height. All renters are asked to sign a rental agreement, regardless of rental length. Please contact us with questions, or to view the space.
Consultation
Actor Safety and Movement
Have an actor safety or effects question? Contact us. We may be able to help, even if it isn't specifically fight-related. Daniel has experience dealing with many common performer safety issues such as crowd scenes/melees, carries, restraints, throwing of objects, and falls. We also have specialist colleagues in a number of areas such as theatrical blood, rigging and pyrotechnics to whom we can refer you for answers.
Theatrical Firearms
"What type of sidearm would this soldier have carried? How do I stage a point-blank shooting? Can blanks cause injury? How loud a shot is too loud? Do I need hearing protection? Can we use a restricted device in our show? What's a Weaver stance?" The selection, handling and maintenance of theatrical firearms requires special consideration and awareness. Daniel Levinson is an expert theatrical firearm consultant who has trained, consulted, and/or directed firearm handling on a long list of shows including Tommy (Stratford), War Horse (Mirvish Theatre), and Goodness (Volcano). Daniel's knowledge base combines his own acting and fight direction experience, avid interest in military/arms history, and a thorough, practical understanding of firearm use on stage. Through Rapier Wit he offers a Stage and Screen Firearm workshop several times a year to anyone interested in safe, effective handling of these complex props. (See below for more info.) Daniel is also available for private performer coaching to develop accurate, confident handling skills. Contact him any time with your questions or concerns – he's the guy to ask!
Interested in Rapier Wit's Stage and Screen Firearms Workshop? Check here for the full description. When the next session is scheduled you'll find it on the Upcoming Classes page.
Performers and Performances
The Rude Mechanicals

Rapier Wit's The Rude Mechanicals, our comedic fight troupe, has been delighting audiences of all ages and sizes since 1992. Sometimes a trio, sometimes a quartet, the Mechanicals are longtime friends who love the spotlight and live to display their wonderful fight skills. Unfortunately, they seldom agree on just how the show should go…
All skilled actor-combatants, the Rude Mechanicals have performed at Theatre Aquarius, Toronto's First Night, The 27th Annual Robbie Burns Supper, Toronto's Poculi Ludique Societas' York Cycle, The Orangeville Medieval Fair, Campbellford's Scottish and Medieval Fair, The Word In The Street Fair, The Canadian Opera's Operathon, The Toronto Fringe Festival, Sudbury's Fringe Nord, Canadian Stage's Festival, and Dream in High Park. We bring a variety of historical fight forms to life in comic and fast-paced shows full of swords, songs, and general mayhem. Our audiences have thrilled to our fights, laughed at our antics, and joined in our songs. Some of our past shows have included The History of the Sword, How to Duel and not Get Dead, How to Make a Rude Mechanical, and From Monkeys to Muskets. For our more 'serious' and 'educated' audiences we present the rigorous test a Renaissance student must survive to win his Master of Arms degree.
Please call or e-mail us for details on engaging The Rude Mechanicals for performances. Our shows are for kids of seven to one hundred and seven. Children of one hundred and eight or over need a note from their parents.
Custom Performances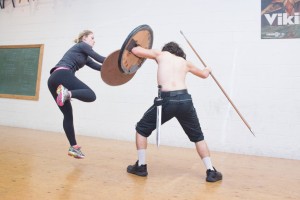 Rapier Wit has created custom shows and provided performance teams for many corporate, educational, cultural, and promotional events. Rates vary widely according to type of show, location, duration, number of performers, and prop/weapon/costume requirements; call or e-mail us to discuss your project parameters. If you are considering a custom-created fight scene or show for your event, we recommend that you contact us as far in advance of the performance date as possible so that we have adequate time to build, cast and rehearse for the best possible performance. It'll be worth the wait!
A sample project: Greek fights by Rapier Wit for Taste of the Danforth, profiled in this article by metronews.ca.
Performers
Rapier Wit is not in casting, nor do we represent performers in any professional capacity. However, if you are a project creator looking for someone with specific stage combat-related skills, let us know; we may be able to connect you on a personal basis with one of our associates.