Training
"I feel entirely compelled to say thank you from the bottom of my heart for all of your hard work, efforts, and commitment to our instruction. The atmosphere here was so incredibly welcoming, positive and inspiring…I return to home a changed individual, inspired and energized." – Intermediate Intensive Student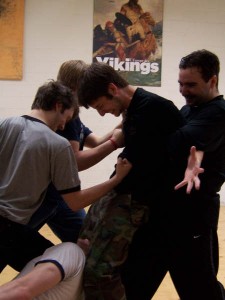 Be a More Effective Performer
You need technique that will be there for you on stage. That's why it's our mission to deliver the highest standard of stage combat instruction in an enjoyable, empowering environment. Our rigorous but compassionate training style challenges students physically, mentally and artistically, but also makes it a fun, engaging, and satisfying experience.
This training is much more than just a line on a resume; it will bring new clarity and strength to all areas of your performance. Your actions will be stronger, your awareness will improve, you'll be a better partner and you'll be more responsive to safety issues. Above all, you'll be able to execute those critical moments of physical conflict safely and precisely, with maximum dramatic impact. Whether you're looking for practical, portable skills or dream of someday becoming a fight director, we want to help you to make the very most of your time with us.
Fight Directors Canada actor-combatant certification at Basic, Intermediate and Advanced levels. Weekly or intensive course formats in a positive, professional environment. Effective actor-centered training that is recognized worldwide.
A long-running tradition at Rapier Wit, our weekly drop-in classes are your chance to play, brush up on technique, and try something new!
Master classes, specialized weapons training, industry workshops, project coaching, high school/custom workshops, audition preparation, and more.