Weekly Drop-Ins
"Who hasn't fantasized about being a swashbuckling action hero, wielding a cutlass and yelling "en garde!"? At Rapier Wit, that fantasy can be realized." — "Mastering Munitions", The National Post
Rapier Wit's Drop In Mondays 7 PM – 10 PM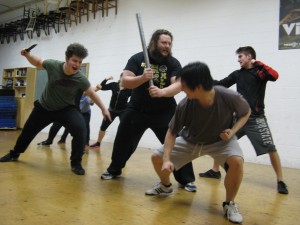 A long-running Rapier Wit tradition, these ongoing evening drop-in workshops are open to everyone. Each night is a complete class, and you are welcome to come as often as you like. Run by a guest instructor and/or senior Rapier Wit member, each 3-hour session has a specific stage-combat or acting-related focus that we think will be fun, helpful and thought-provoking. Over the years we've hosted an enormous range of subjects. Just a few examples: Japanese sword, Irish stick fighting, gravity/falling, pirate fighting, broadsword battles, gun fu, bartitsu, "swords and sandals" fights, energy work, soldier/police tactics, movie/musical fights, and ninjutsu. Drop in nights are a chance to play, keep your skills up, and try something you might not experience in regular classes. If you're new to Rapier Wit or stage combat, this drop-in is a great way to get a taste of both.
Evenings run from 7:00-10:00 every Monday. If you plan to come after 7:30, please let us know; otherwise if we don't have the minimum number of students by then, the instructor may be released. Please wear movement clothing and running/movement shoes with clean, non-marking soles. To see this week's theme (if one has been decided), please check the calendar at the bottom of the page or visit our Facebook group. Drop-Ins are $10 for members, $15 for non-members (inc. HST), cash or cheque preferred. Special guest open classes may cost slightly more; those fees will be stated in the event listings on our Rapier Wit Facebook group page, on our events calendar, or on our Upcoming Classes page.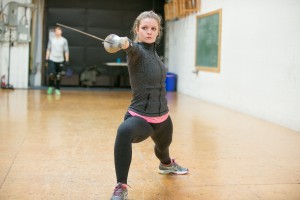 Directions to the studio are on our Contact/Register page. Have a question about Monday nights? Visit our FAQ or give us a holler by phone or email.
The Grid TO visited Rapier Wit on a Monday night and got some great photos for their column "What Goes On In There?". The National Post dropped in for a Monday night, too: Mastering Munitions.