Workshops/Other Training
"This is the most positive, inviting workshop I have ever attended…You learn so much at a great pace."                                                                                                                              –Stage Combat Workshop Student
Workshops
Rapier Wit offers a selection of workshops according to demand and instructor availability.  If you're interested in a workshop that isn't on the schedule right now, please let us know and we'll notify you about the next session. For the full schedule, check out our Upcoming Classes page.
Rapier Wit's PAL/Stage and Screen Firearms Workshop
This is a 'must' course for actors, directors, and stage managers. Its depth and focus on the entertainment industry make it the only one of its kind in Ontario. For liability and safety reasons, it is best practice for all theatre companies to have a licensed PAL holder on staff if firearms or replica firearms are being used in a production. Rapier Wit's Possession and Acquisition License Course will give participants the opportunity to earn both their restricted and non-restricted firearm licenses and train in safe and effective performance techniques for stage and film.
This unique course takes place over three days and covers training in non-restricted firearms, restricted firearms, and blank-firing replicas which are prohibited devices. During the stage/screen portion of the workshop our participants will be firing blanks from eight different types of firearms and learning how to use these props safely and effectively in performance by training in safe angles, proper stances, draws, movement and carry. Firearms covered: pump shotguns, break shotguns, lever-action rifles, bolt-action rifles, single-action revolvers, double-action revolvers, single-action self-loading pistols, and double-action self-loading pistols.
Next session: TBA. Usually runs 2 – 3 times a year. Contact us to be notified of the next session.
Katori Shinto Ryu Kenjutsu taught by Douglas Tong of Tokumeikan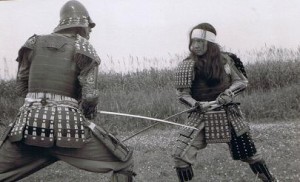 We're always thrilled to welcome Douglas Tong and his excellent assistants to Rapier Wit. If you've experienced Mr. Tong's katana training on his previous visits to our studio, you know what a superlative instructor he is, and how addictive this form can be! If you haven't tried it yet, this 6-week course is the perfect place to begin.
Katori Shinto Ryu is one of the oldest styles of Japanese sword and was created during the Warring States Period (c. 1460). It is an elegant style and very classical, being an actual sword style created by a samurai to train other samurai for battlefield fighting. Over the course of this special seminar, you will learn the fundamentals of Katori Shinto Ryu kenjutsu: body posture and movement, stances (kamae), basic attacks (kogeki), basic defence (uke), and selected basic techniques. Come and experience this rare art which has been handed down in secret from generation to generation for over 600 years.
The bio for Sensei Douglas Tong, Japanese Sword Master, may be found here. We also invite you to visit the Tokumeikan website, and to watch Tong Sensei and Katori Shinto Ryu in action in this feature on York Region Living and on CBC's Masters of The City – Kenjutsu.
Next session: TBA. Let us know if you're interested in this workshop!
The Rapier Wit "Survivors" Introductory Stage Combat Workshop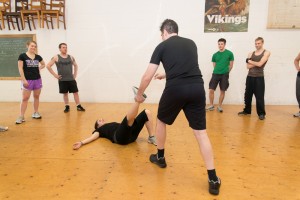 You might call this a crash course in stage combat basics. Maybe you have a project coming up that requires some fighting, or maybe you've just always wondered which end of the sword goes in the other guy. Either way, this compact session is a great 1-day training opportunity. Come for the day and get acquainted with unarmed and single sword foundation techniques – you never know when they might suddenly come in handy!
Next session: TBA. Let us know if you're interested in this workshop.
Get Cracking! Simon Fon's Whip Workshop
Whip classes don't come along every day, so we're delighted to host FDC Fight Master Simon Fon's one-day primer on whip skills whenever we can. From Indiana Jones to Zastrozzi, whips have proven their dramatic potential over and over. Simon will introduce you to the technique behind that marvelous crack and flourish. Come spend the day with us and get to know the whip – truly a weapon like no other!
Next session: TBA. Let us know if you're interested in this workshop!
Other Workshops
Over the years we have offered workshops in a wide range of subjects, taught by Rapier Wit instructors or guest experts. Examples of past sessions include Bartitisu/Gun Fu/Wolf System with Tony Wolf, Theatrical Blood with Casey Kaleba, Commedia Dell'arte with Matthew Wilson, Rapier and Cape with FM Ian Rose, First Aid Certification with the Red Cross, and innumerable specialty weapons workshops – axe, broadsword, rapier and cape, cutlass, and many others. On the horizon are workshops for motion capture, fighting for film, and scene study for actor combatants. Is there a subject you're interested in, or a suggestion you'd like to make? Let us know!
Next session: TBA. Please contact us to suggest something or to be notified of scheduled workshops. You can also check out our Upcoming Classes page.
Personal Coaching/Custom Classes
School Workshops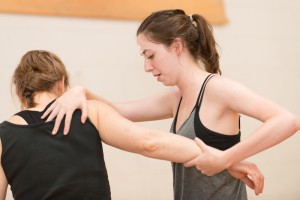 Yes, we do high school workshops! Material is determined by class age, number of students, and teacher input. Rates vary according to number of students, number of sessions, equipment needs and travel requirements. Sessions can take place at your school, or at the Rapier Wit studio if feasible. Talk to us about how we can give your class or cast an unforgettable experience!
Corporate Classes
Rapier Wit has hosted team-building initiatives in the form of classes and games for a number of organizations over the years. Got an idea for a session to help pull your team together? Talk to us.
Personal Coaching
An opportunity for you to polish your skills, work on new material, or get help with a specific problem. Particularly helpful for performers seeking specialized audition or role preparation that involves dramatic violence, weapon handling or related movement. Also helpful for younger performers. Contact us to see what we can do for you!
Other Training Opportunities
Temper Combat Performance Arts presents The School of Hard Knocks Saturday Youth Drop-In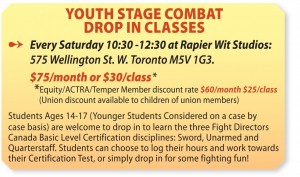 It's our great pleasure to host Temper Combat Performance Arts' School of Hard Knocks Saturday youth drop-in. Temper belongs to the amazing Casey Hudecki, a cherished instructor at Rapier Wit. This is easily the coolest thing any student can do in his/her free time, and with a superlative teacher who knows the industry. Learn more and get in touch with Casey to register at www.caseyhudecki.com.